A Guy Called Gerald has a unique insider's view of the evolution of dance music since the early eighties when, as a 14 year old dancer, he started sneaking into Manchester's underground clubs. By 16, Gerald was hooked on Electro Funk. With his DJ crew, the Scratchbeat Masters, Gerald was found every Sunday in his parent's attic where he built his first studio. Cutting up beats on their turntables, they would challenge other crews and their soundsystems. A 12 inch single called 'Wax on the Melt' resulted from a collaboration between a few of the crews. Gerald later joined forces with some of these members to form 808 State. The act's 'Newbuild' album was released in 1988 before Gerald broke away to concentrate on his solo work.
Early realisations by Gerald that there were indeed other dimensions to dance music beyond the turntables led him into the production of electronic dance music. A year later, with meagre earnings from his job at a fast food chain, Gerald bought his first drum machine and his mixer and turntables soon began to collect dust. By the time acid house reached the UK, he had made a transform scratch button for his Citronic mixer and crafted an electro style which flowed seamlessly with the new sound.
That said, House music first emerged in England through the funk and soul clubs, which were predominantly black. "It was a really vibrant scene," Gerald reminisces of Manchester's black dance underground "it was a perfect concoction of the technology and the musical structure creating an irresistible compulsion to dance". In some night-clubs and all-dayers it wasn't long until house music became the focal point of the event. "In those days everyone in the club danced and some had their own signature dance moves", Gerald explains. "Dance was actually a way of life. There were jazzheads, funkheads and some dubheads, yet nobody was talking about the DJ but you knew who the dancers were and the moves they were doing – intricate moves involving back-flips and running up the walls. Clubbers held regular dance-offs. This was way before the Hacienda era and these people were its pioneers. The track 'Voodoo Ray' was borne of my inspiration from this scene."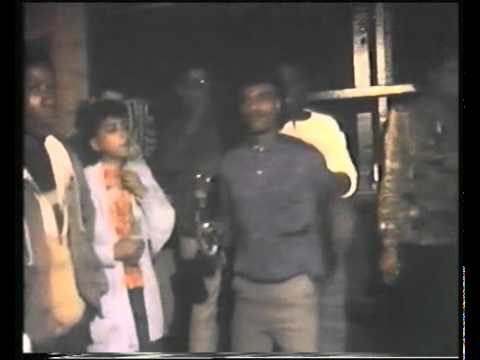 Moss Side Manchester 86 with Foot Patrol
By 1987, Chicago and Detroit House was reverberating in European clubs and infiltrating the UK underground with sounds from Juan Atkins, Derrick May, Kevin Saunderson, Farley Jackmaster Funk, Jesse Saunders, Chip E, Virgo, Master C&;J, Adonis, Jungle Wons, Fast Eddie, Fingers Inc., Liz Torres, Ralph Rosario to name but a few. Gerald's favourite record shop in Manchester, 'Spin Inn,' was a key importer of American House and was where Stu Allan (a local radio DJ who played demo tapes on his show) bought his records. The Spin Inn staff happily passed Gerald's demo to Stu, who played it the following week. Stu couldn't get enough of Gerald's music and would play everything Gerald gave him.
Gerald was then approached to release material on Rham! Records, a small indie label near Merseyside, whose representatives had heard his tracks on the radio. Gerald had never been in a professional recording studio before and he jumped at the opportunity. Armed with a handful of demos he'd been working on, it took Gerald just one day to record four tracks: 'Rhapsody in Acid,' 'Blow Your House Down,' 'Escape' and 'Voodoo Ray'. The concept was for the release to have a raw, underground dance vibe and only 500 white labels were pressed up. Rham! were astounded when, for the first time in its history, stocks were depleted within a week and they quickly manufactured another 2000+ copies. 'Voodoo Ray' was first played at the infamous Hacienda and later exploded to number 12 on the UK music charts, becoming the best-selling independently released single of 1989.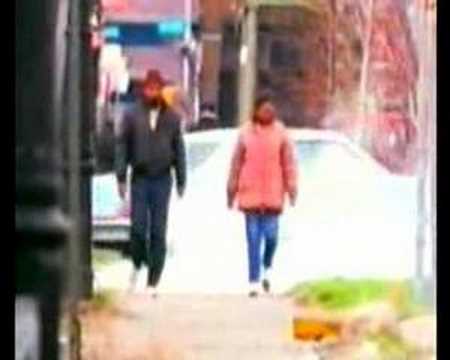 Gerald continued working on new tracks for his first solo album, 'Hot Lemonade,' dripping with chilled acid and Chicago style House. By the time the album came out on Rham! in 1989, Gerald had been rehearsing with one of Rham's bands, Chapter and the Verse, in preparation for promotion of his new album via a tour of UK universities and colleges. Although sampling was still in its early stages at the time, to Gerald it seemed like an exciting way of performing. He left his drum machines at home and replaced them with three Akai samplers. Halfway through the UK tour, requests came from the US. Gerald was excited because he could finally visit the birthplace of his main influences. By now 'Voodoo Ray' had been licensed to New York label 'Warlock' and its Frankie Knuckles remixes propelled the track into the heart of New York's dance underground. Gerald accompanied Manchester's Hacienda Club resident DJs on a tour of the US to phenomenal reception. Despite a hectic schedule, Gerald devised a way to continue recording new material while on the road and for the next two years thats exactly what he would do; travel and record.
Back in England, the scene had erupted from the underground and new dance bands oozed through the cracks. Everyone wanted to make an Acid Dance track or have an Acid House remix. UK labels were signing big name Chicago artists, often just to remix tracks for new English talent. Gerald was disheartened by this but believes that, at the time, there was no other way for UK acts to achieve the desired sound. Misguidedly thinking it would be a useful tool in his mission to widen the audience for innovative new music, Gerald signed to a major record label in 1990. His first album under the deal was 'Automanikk', themed on late eighties Acid with a Detroit vibe. However, Gerald refused to bow to the major's demands to dilute his music for mainstream consumption and his second album for them, 'Hi Life Lo Profile', never saw the light of day.
"Since I started in music I've seen the system change" says Gerald, " I saw the old structure crumble away as myself and many of the others I inspired emerged from the bedroom studio with our own self-generating independence. I was one of the first to break the mould of the stranglehold that labels and studios and PR machines had on artists. The record company dam was broken and there was a tidal wave fuelled by cheaper and cheaper studio equipment, with the final nail in the coffin being the internet. You have no idea how happy this makes me".
In the rave years of the late 80s / early 90s Gerald experimented with breakbeats. The first such track, 'Specific Hate', was popular with UK DJs such as Sasha and Grooverider. By now the UK's diverse multi-cultural environment brought a new mix of sounds such as Hip-Hop breaks over old House bites meshed together with oldskool Reggae tracks. Sampling technology had advanced to a multi-layering state and some UK dance music producers including Gerald and Shut Up & Dance, Rebel MC, A Homeboy A Hippy & A Funkydred, 4Hero, LTJ Bukem, Rob Playford, Omni Trio, Roni Size, DJ Hype, Fabio & Grooverider, among others were creating what became known as 'Jungle Techno'. Gerald feared it would go mainstream, as had happened with Acid House.
Meanwhile, the underground Blues parties Gerald was throwing with MC Tunes in Manchester under the Juice Box; moniker involved spinning exclusive raw acetates hot from the press, a practice alien to mainstream methods. In fact, Gerald once courted danger with his (ex)major label for giving acetates from his unreleased album to some influential underground DJs. In fact, the freedom to play cutting-edge music to a live audience was a key feature of the 'Juice Box' parties. Gerald knew people who were into Jungle responded to 'dirtier' sounds which didn't work in the commercial world so he constantly reviewed his methods to preserve the purity of Raw Dance in his tracks. In fact, his 12 inch EP release of '28 Gun Bad Boy' (91) is cited as one of the earliest and best examples of proto Jungle, being a perfect combination of breakbeats, basslines, rave melody and aesthetics.
By 1992, Juice Box had evolved into a small dance label, finding underground popularity with tracks by Gerald and featuring local artists such as Finley Quaye and Gerald's own brother, David Simpson. In addition to releasing tracks under Gerald's aliases 'Inertia,' 'The KGB' and 'Ricky Rouge,' Juice Box Records released further material by acts including 'XTRO,' 'Digital Pressure,' 'Coca' and 'K-Groove.' Juice Box is hailed for releases which provided a prototype for Jungle and Drum 'n' Bass, with early tracks from the label described as "genre defining". The label was soon to present the first album-length product of the Jungle era, A Guy Called Gerald's '28 Gun Bad Boy.' After his earlier disillusionment with a major label, Gerald was thrilled to be in total control of '28 Gun Bad Boy'. Compiled from early 'Juice Box' singles, this album updated Gerald's hallmark hypnotic techno with stomping breaks that echoed the unbridled energy emanating from the 'Juice Box' parties. In a "Melody Maker" magazine review of the album in October 1994, Simon Reynolds stated, "If ever there was a blueprint for what would transform rave into jungle/techno, then this is it. Gerald's tracks take the Jungle mesh of polyrhythms, cross-rhythms and counter-rhythms to new levels of insane detail."
By the mid nineties, Manchester was however becoming a dangerous place to run a label and throw parties, so Gerald relocated to London. Juice Box was relaunched at Riverside Studios in Hammersmith and included collaborations with artists such as Finley Quaye, Bushmaster, DJ Tamsin, Goldie (as The 2G's), Sawtooth and Lisa May. Gerald's 'Black Secret Technology' was released on Juice Box in 1995. Immersed in rolling breaks and ethereal synths, heartbreakingly beautiful vocals wreathe euphoria and melancholy through layers of reverb into a spiritual celebration of rhythm and life as the album's liner notes detail Gerald's thoughts: "the first man on earth [..] developed a way of communicating which was to become an important part of his survival. These strange patterns of sound were called rhythm, rhythm then was not a leisurely thing, it was a way of life, methods of rhythm helped early man to get in touch with the universe and his small part in it; I believe that some of these trance like rhythms reflect my frustration to know the truth about my ancestors who talked with drums". A remastered version of Black Secret Technology with improved sound quality was subsequently released in the Summer of 2008. In 1997, Gerald relocated to New York. He had just signed a deal with Island Records in Los Angeles but was released from his contract just months before the album was due to hit the streets following the departure of the label's founder. Undaunted, Gerald seized the opportunity provided by his Brooklyn base to dip into a fresh palette, resulting in collaborations with Tricky (and a subsequent tour), Herbie Hancock, Roy Ayers, David Bowie and Bebel Gilberto, along with various other remixes. He also continued working on new solo material for his next album, 'Essence'. 'Essence' was released on !K7 Records in August 2000 and was Gerald's first song-based project. With its sleek and soulful production, the album merges sultry Drum 'n' Bass over transcendent melodies and features song writing and vocal contributions from guest artists Wendy Page, Lady Miss Kier, Lamb's Louise Rhodes and David Simpson.
After bouncing between New York and London for a year, the events surrounding 11 September 2001 cemented Gerald's decision to leave New York. He returned to London in early 2002 to work on his follow-up for !K7, 'To All Things What They Need'. A soundscape daubed with string-laden acid, Electro and deep Detroit House, diffused by the evocative vocals of Finley Quaye and spoken word of Philadelphia-born poet Ursula Rucker, this album is truly memorable.
By the time the album was released in 2004, Gerald had grown weary of London's hectic pace and was living in Berlin. "I think you have to travel around a bit to recognise where you're from" muses Gerald. Drum 'n' Bass was really a UK phenomenon and I don't think I could have done it anywhere else than the UK. New York was vastly influential," says Gerald, while having said that, Berlin is another kind of influence of its own. "I grew up in Manchester in the 70s and remember the smell of coal dust. When the wall came down, it's like parts of Berlin were still in the 60s and 70s so there's a kind of familiarity about the place for me."
Berlin's dynamic club vibe provided an impetus for Gerald's return to the dance floor with 'Proto Acid: The Berlin Sessions', released on German label Laboratory Instinct in 2006. A mix of 24 tracks recorded in one smooth session, Detroit-style techno crashes over peaks and troughs like an acid-drenched tsunami, with an obvious absence of vocals.
"Sometimes you just have to get down and dirty into the machines and, some things don't need a vocal," Gerald explains. "Proto Acid is how I feel House/Techno would have sounded if the whole rave thing hadn't happened in England. So when I say "proto acid" I'm saying this stuff has direct lineage to Chicago and Detroit in the mid-to-late 80s. It's about the tweaking of synths and riding a groove. To me, Proto Acid is acid and acid's a part of everything I do. It's the culmination of a dream I've had since I started making music and that's to take the studio into the club, so, this album is snapshot of those possibilities." Gerald has had select releases on Germany's Perlon and Beatstreet labels in the last two years and remix projects for Dell + Fluegel (Roman Fluegel). Since 2009 Gerald continues to release exclusives and previously unreleased back catalogue via his web-based labels A GUY CALLED GERALD RECORDS, SUGOI and PROTECHSHON on his website.
'Tronic Jazz: The Berlin Sessions,' the second instalment in the series on Laboratory Instinct, was released May 10, 2010.